GEFFA Spring Flag Development Camp
---
Schedule
May 2, 9, 16, 30 (postponed due to COVID restrictions) & June 6, 13, 20, 27
We will NOT be extending the season to make up for the two weeks that were lost over the break. Instead we will be integrating the extra time into our final four weeks of programming. Please note the change in times for the upcoming weeks.
June 13th, 20th and 27th

10:00AM - 11:30AM

Red and Orange

11:45AM - 1:15PM

Yellow, White, Navy and Purple

1:15PM - 2:45PM

Pink, Grey, Light Blue and Green
Click here to view the full game schedule and team rosters.
Location
EFFA Flag Football Fields (located behind Taylor College and Seminary)
11525 - 23 Ave, Edmonton Alberta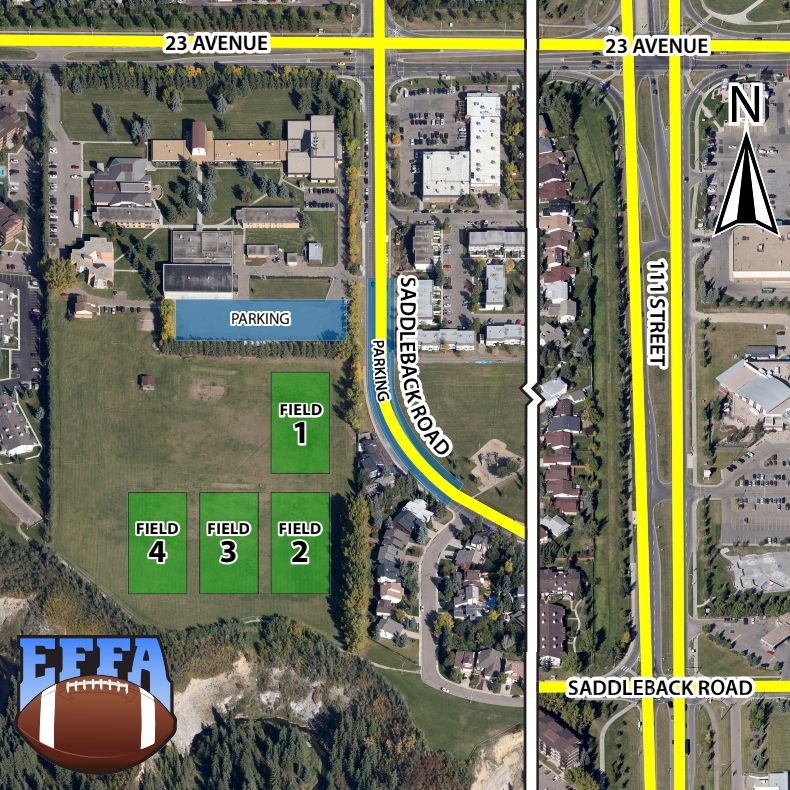 Games will run on Fields 1 and 2.
Arrival + Departure
Please arrive no more than 15 minutes prior to your athletes designated time slot. The check in station will be set up between the playing field and the parking lot. Check in is mandatory. Players are not to enter the playing fields until instructed to.
We ask that players depart immediately after their session so the next groups can begin.
Spectators
Spectators and parents must stay out of participant spaces (e.g., fields of play, benches, sidelines). You are welcome to bring chairs or stand on the EAST side of fields ONLY, keeping in mind physical distancing of 2 meters must be maintained. The west side of the fields will be reserved for players and coaches. Anyone not adhering to appropriate social distancing and boundaries may be asked to leave.
The maximum number of spectators is up to a maximum of 150 people based on the current AHS guidelines.
COVID Restrictions + Safety
ALBERTA RE-OPENING STAGE 2 (as of June 10, 2021):
During Stage 2 teams may register and commence regular activities with the following restrictions:
NEW RULES FOR FOOTBALL TEAMS
All outdoor activity for football, both contact and non-contact, can take place with no restrictions. This means full practices with full participation are free to take place.
There are no cohorting rules or maximum number of participants caps.
Competitions between teams and clubs can take place as per Football Canada guidelines for days between competitions and number of players necessary to field teams. No 14-day period between competitions is in place anymore.
With all the freedoms no allowed it is still important to note that all indoor gatherings are still banned at this stage. This means no access to locker rooms, meeting rooms, or other areas that would gather players and coaches in an indoor setting until the Province declares Stage 3.
Teams/clubs are permitted to travel outside of their Health Region for the purpose of competition.
Contact Tanya Walter at admin@edmontonflag.com with any questions or concerns.